How to increase conversion by centralizing great content on your website
All the benefits of YouTube and Slideshare in Odoo Slides
Content is king, distribution is queen, and she wears the pants.

Jonathan Perelman, VP of Agency Strategy at BuzzFeed
How to increase conversion by centralizing great content on your website: In the beginning, there were forums. Communities then moved on to blogs and, after that, to social media. All the while, still hungry for their favorite food – great content. As companies began to realize the impact great content could have on a business, everyone jumped on the content production bandwagon and SEO became a thing.
Awesome SEO optimized content is vital; but how many people are communicating like they did in 2007 when it's 2015? More than you can imagine. And that's because not much thought goes into context and even less into sharing. Is everything you post on social media appropriate for social media? How many lengthy posts must users endure before businesses understand what it feels like to be on the other side of the fence?
The truth is, due to the nature of the material, businesses (and users) often need to use lengthy content that can't be shortened or translated into an infographic. How about simply changing platform?
Announced with the Odoo Online 2015 Summer Release, Odoo Slides provides you with a new way to share material directly on your website. Odoo Slides has all the advantages of YouTube and Slideshare, with none of the disadvantages.
Learn how to appropriately distribute content from your main communication channel.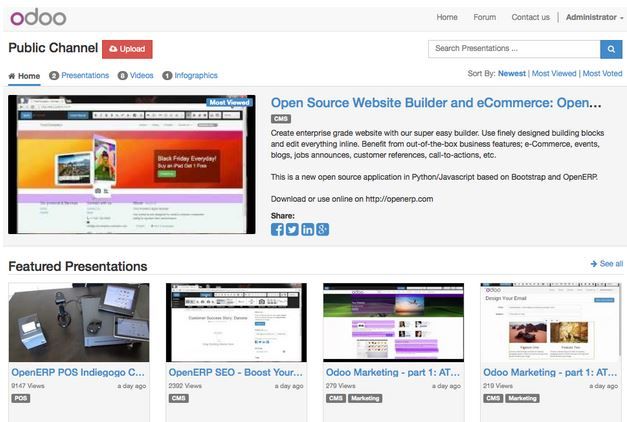 Target the right people
The main benefit of Odoo Slides is probably the simplest but the most important: everything happens on your website. And if it happens on your website, it means that you're in command of what is visible and who can view it.
You can choose what content is public or private (for instance, employee-only material versus public material) and you can display it however you like because Odoo Slides is completely integrated with your Odoo website interface.
Make it easier for the right information to reach the right people in the right way.
Do more of what works best
Want to know what works and what doesn't? Thanks to the smart analysis of views and traffic origin, you'll get useful data and better insight so you can publish the right content for the right people.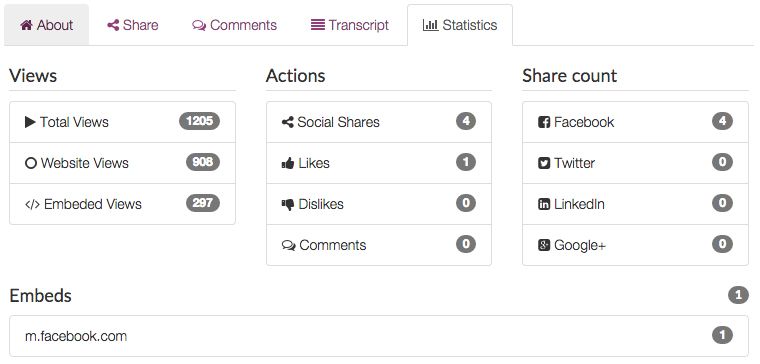 Engage visitors directly on your website
With your content centralized on your website rather than scattered around various external host sites, you'll make sure visitors don't abandon your site – and that will increase conversion potential. Easily browse through the archive. Thanks to Odoo Slide's ingenious channel, category & tag system, users will always find exactly what they are looking for.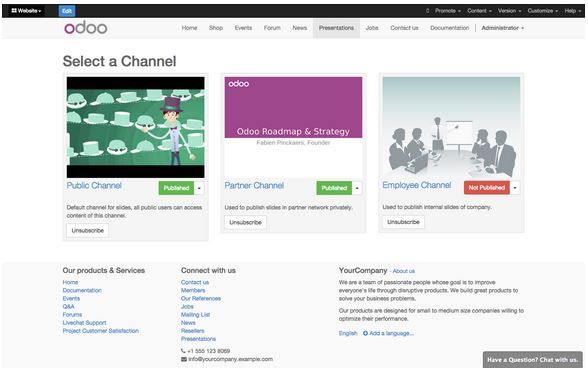 Sharing is caring: come together, collaborate, distribute
This module has been designed to be extremely collaborative: engage guest contributors and upload their work to your website; let visitors and employees evaluate the information. Thanks to the moderation option, you will always be in control of content visibility.
Odoo Slides doesn't walk alone. It is seamlessly integrated with YouTube and Google Docs and everything is easily sharable on blogs, web pages and social media with a simple copy-paste.
The extra benefits
Forget about additional costs. Once you use Odoo Slides, you won't have to pay third-party files hosts or external sources at all.
How to increase conversion by centralizing great content on your website
https://www.odoo.com/blog/odoo-news-5/post/how-to-increase-conversion-by-centralizing-great-content-on-your-website-292